NIKE Nationals
Chicago, IL
$55.00
Nike's flagship girls basketball events – the Tournament of Champions and Nike Nationals – return to Chicago on July 10, 11, and 12, 2019.
After a banner year in 2018 which saw record breaking participation and attendance – including a two day appearance by NBA superstar Kevin Durant – the tournaments are moving back into the South Hall at McCormick Place to allow for an expansion to nearly 900 teams.
With K.D. handing out the awards to Divisional Champions – after a stunning buzzer beater in the Nike Nationals Championship that was #3 on ESPN's Top 10 Plays of the Day  – the event exploded on social media and set the stage for even more thrills and surprises in 2019.
There is little doubt that Nike's iconic Tournament of Champions (est. 1999) is the most competitive club basketball event in the world; combined with Nike Nationals (est. 2005) – which is the culmination of the Portland, OR based apparel company's Elite Youth Basketball League (EYBL) – it has transformed Chicago into a mecca for girls' basketball and the #1 stop for the nation's most elite youth teams and the college coaches following them.
The combined tournaments – which will play together for a third consecutive year – have generated as much buzz for their off court excitement as the on court heroics. In 2019 the events will occupy almost one million square feet inside McCormick Place, and together they will host 880 teams from all 50 States and every Canadian province, including all 32 Nike EYBL programs and the majority of the best club basketball teams in the nation.
Chicago itself is one of the top tourist destinations in the world and trails only New York City as the most popular city in America. McCormick Place –  the largest convention center in North America and the only building on the continent large enough to host the Tournament of Champions – stands on the shore of Lake Michigan, just minutes from downtown Chicago. Many of the city's best hotels have partnered with the event to provide accommodations, and a shuttle service will transport athletes, coaches, and fans between downtown and the convention center.
Ticket sales end on: June 4, 2019
Additional Information
COACHES APPROVAL
Entry fee is $285 per team
COACHES APPROVAL
All coaches must have a USA Basketball Coach License prior to the event. Individuals without valid licenses will not be permitted to engage in coaching activities or sit on the team bench, and must purchase a spectator pass and sit in the designated spectator area(s). The License application may be found here.
BBCS REGISTRATION
All athletes and coaches must be registered in the NCAA BBCS. Returning users should renew their previous account and not create a new one. For team events, coaches will use their players' registration to create their bench/roster. Athletes may register with the NCAA by visiting this link:
ADDITIONAL INFORMATION
For more information on athlete and coach registration and for access to the ECAG User Manual, visit the NCAA basketball certification website by clicking here.

WAIVERS
All athletes must have a parent or legal guardian sign our online Waiver of Liability by June 8. Players without signed waivers will not be allowed to compete or to attend the event, no exceptions. Parents must use their own computer or device (home or office) to sign the waiver and enter their own email addresses (not their daughter's). Multiple waivers signed from the same IP address or device will be rejected (this is necessary to prevent one person from signing all waivers). Any attempt to defraud this system will result in removal from the event.
The link to complete the waiver will be posted in June.
BASKETBALLS, WATER, AND TRAINING SUPPLIES
Each team is responsible for providing its own basketballs, drinking water, and training supplies (tape and pre-wrap).
CERTIFIED ATHLETIC TRAINERS
Certified athletic trainers will be available from 7:30 A.M. until the conclusion of the last game on each day. Trainer stations will be clearly marked and located throughout the Hall. Players wishing to be be taped prior to games are responsible for providing their own tape and pre-wrap.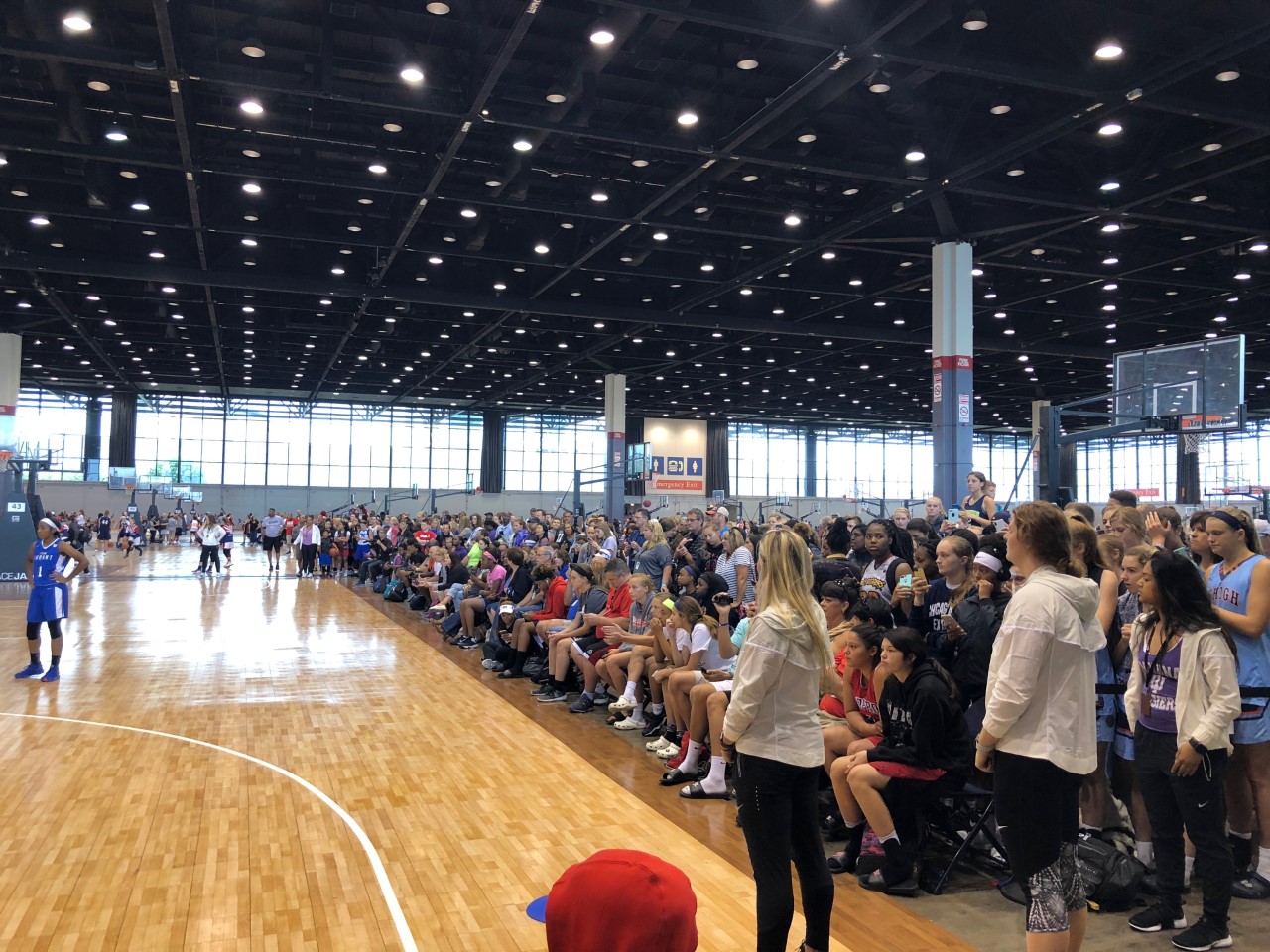 For College Coaches
NIKE NATIONALS
NIKE Nationals – the championship for both the U17 and U16 Nike Elite Youth Basketball League (EYBL) – will be played concurrently with the Tournament of Champions at McCormick Place. There is no additional cost for college coaches attend. 
LOCATION
McCormick place is the largest convention center in North America.  Games will be played in the South Building. A total of 72 regulation sized basketball courts will be constructed in Halls.
SCHEDULE
Games will begin between 8:00 A.M. and 8:30 A.M. on Tuesday, July 10 and conclude at 5:00 P.M. on Thursday, July 12.  The The Championship games for Nike Nationals will be held at 11:00 A.M. and 2:00 P.M.
COLLEGE REGISTRATION 
All college coaches must register before the event (highly recommended, see below) or at the door.  Registration details will be released prior to the event.
COST TO ATTEND
Recruiting guides are available but not required for admission. If you choose not to purchase a guide, you may purchase a day pass which will allow you access to collegiate seating.  College coaches without appropriate credentials or attempting to gain access using parent/spectator tickets will be asked to leave and may be subject to further NCAA penalties).
PRE-REGISTERING (Read Carefully)
We strongly encourage coaches to pre purchase recruiting guides prior to the event.  It will greatly speed up the registration process when you arrive (the lines for the event tend to be very long even when maximally staffed).  Registration details will be released prior to the event.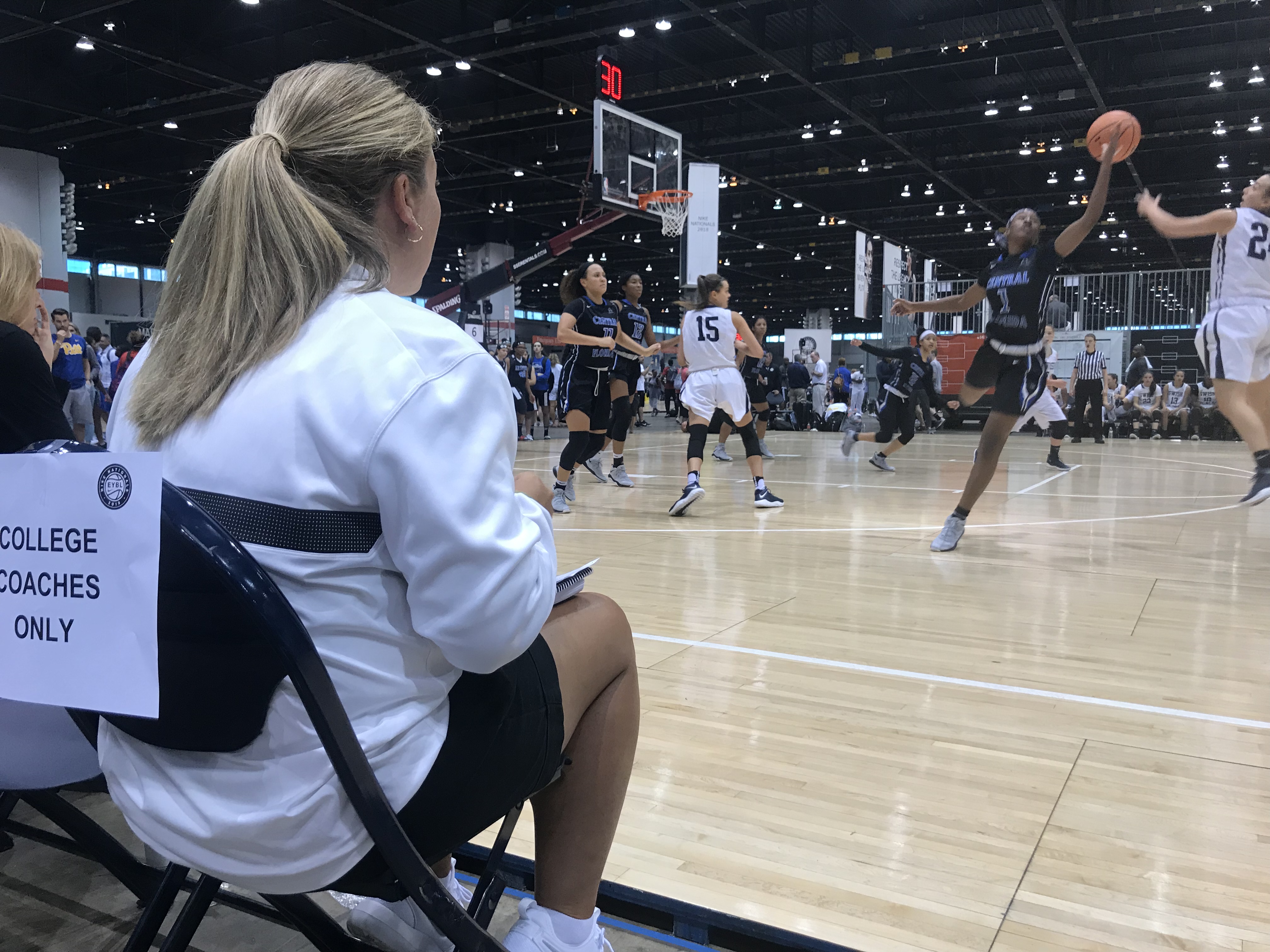 For Athletes
All athletes must register with the NCAA to be eligible to compete in the NIKE Tournament of Champions.  Registration is free and can by completed here: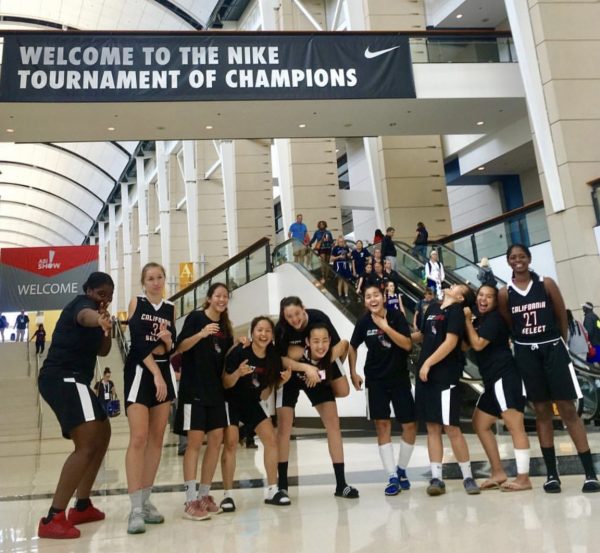 TICKETS
Adult tournament passes may be purchased online in advance of the event (discounted passes for children under 12 and seniors over 55 are available on site only). Passes purchased online will be available at will call beginning at 7:30 A.M. on July 10 in the main concourse of the South Building at McCormick Place. Photo ID is required.
Passes may also be purchased on site through the McCormick Place Box Office. Ticket kiosks will be located on the main concourse outside South Hall. McCormick Place accepts cash only.
SHUTTLE PASSES
Infinity Transportation operates a shuttle between select Downtown hotels and the Convention Center. All rostered, uniformed athletes and coaches with credentials and USAB licenses ride the shuttle free of charge. Parents, family, and fans may purchase an unlimited shuttle pass for $27 either online or on-site (cash only on site). This is a tremendous value as just one trip, one-way in a taxi or Uber can exceed $15 without tip.
Shuttles will run continuously beginning at 6:30 A.M. each day and stop every 30 minutes at each of the designated stops.
Players in uniform ride free.  Team coaches ride free by presenting their coaching wristband.
NOTE: Since you will not have shuttle passes until you reach McCormick Place for the first time, all riders may board the shuttle one time, one-way only from the hotels on the morning of July 10. All subsequent trips will require a pass, which can be picked up or purchased at the shuttle sales counter in the South Building at McCormick Place.
TRAINING TAPE
Certified athletic trainers (provided by Athletico) will be available at clearly marked stations throughout the Halls. Any athlete wishing to be taped prior to her game(s) must provide her own tape and pre-wrap; no training supplies will be provided apart from those required in an emergency.
HALLS
All games will be played in the South Building.
PARKING
For spectators driving to the event, the least expensive parking lot is outdoor Lot B ($15). Lots A and C are covered but more expensive. Please note that the tournament does not establish parking costs or benefit from them in any way.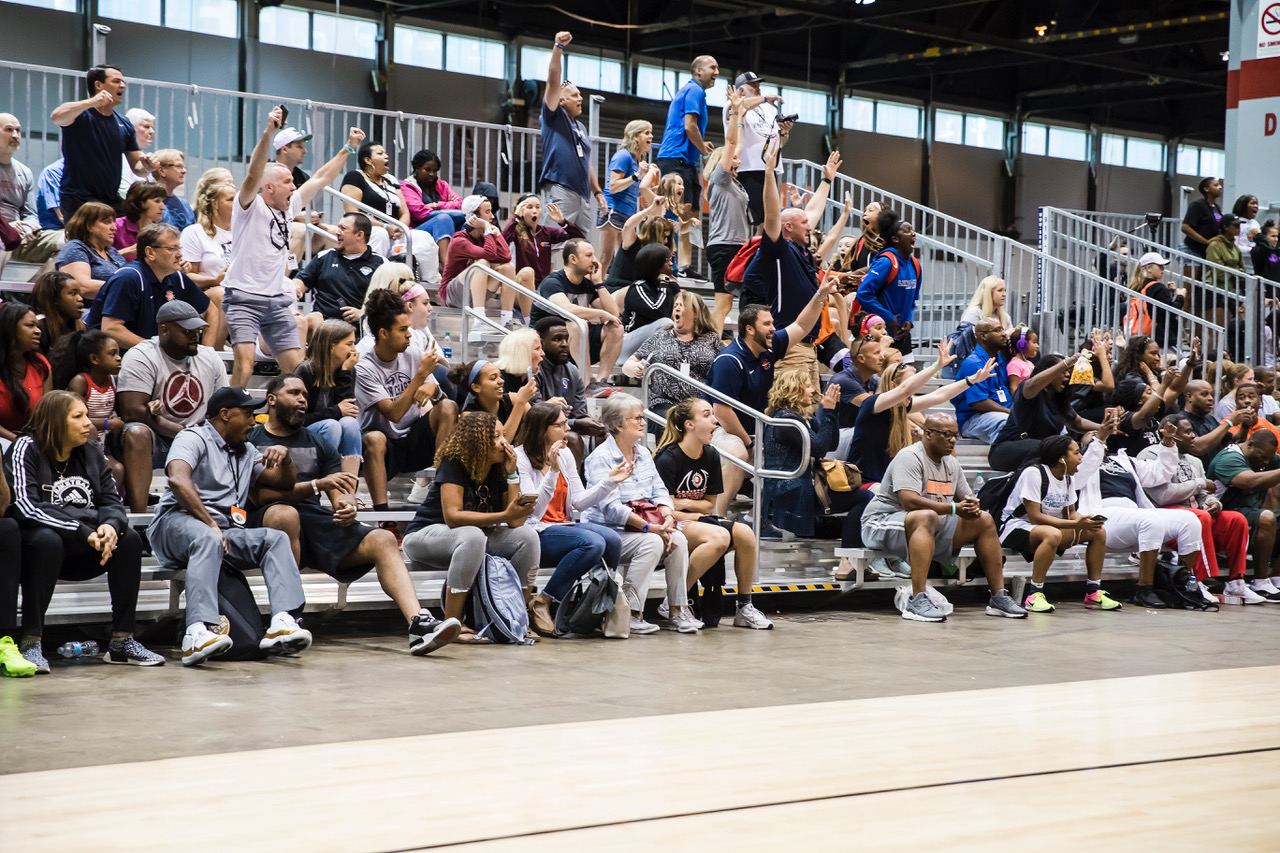 Venue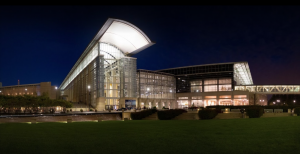 McCormick Place
2301 S King Drive
Chicago, IL 60616
Accommodations
Please note that all participating teams (athletes and coaches) must stay in a tournament approved hotel and make reservations through the link provided by the Tournament's exclusive housing partner.  Teams staying in a hotel not approved by the tournament and/or making reservations outside tournament blocks will be ineligible for the event. Athletes and coaches must arrive anytime on or before July 9 and may depart anytime after 7:00 P.M. on July 12.
We have negotiated some of the lowest summertime rates you will ever see at AAA Four-Diamond hotels in Downtown Chicago. A shuttle service featuring motor coaches provided by Infinity Transportation will operate between the downtown area and McCormick Place; the shuttle is complimentary for credentialed athletes and coaches and $25 for three days for friends, family, and fans.
We suggest making reservations early as Chicago is in very high demand in the summer and hotels will sell out very quickly.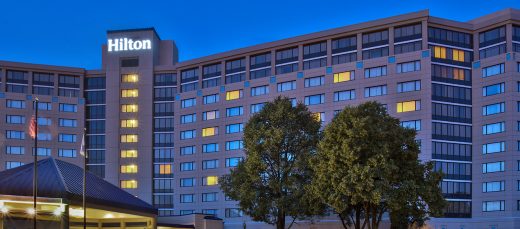 Attending College Coaches
Information coming soon

[gravityview id="2812"]
| | |
| --- | --- |
| July 9, 2019 | All teams arrive in Chicago |
| July 10, 2019 | Competition begins |
| July 11, 2019 | Competition continues |
| July 12, 2019 | Last day of games |
All athletes and coaches must arrive in Chicago on or before July 9 and stay through 7:00 P.M. on July 12. Games will begin at 8:00 A.M. on July 10 and conclude at 7:00 P.M. on July 12.
Each team will play 2 games on July 10 and 11 and 1 or 2 games on July 12
Champions
Info coming soon